With the Guinness 2020 Six Nations well underway, rugby fans across Europe will be spending the next month and half glued to their TV screens. While rugby has been around for close to two hundred years, it's been pretty much out of reach for visually impaired people… until now.
Thanks to investment from The Vision Foundation, a brand new version of rugby has been in development over the past four years. We've been excited by the progress made by our partner, The Change Foundation to establish the rules and training techniques for Visually Impaired Rugby, so we caught up with them about how it's progressing on the international stage, as well as at grass roots levels…
How does VI Rugby work?
Creating a new sport is no mean feat, so it was with the help of founding Visually Impaired Rugby Ambassador and former England Rugby Coach, Andy Robinson OBE, that the rules for coaching officiating and playing were developed.
Visually Impaired Rugby in a nutshell:
There are seven players on each team.
Scrums and line-outs are uncontested.
An adapted ball makes noise to help players locate when and where it's moving.
The main differences between the mainstream game and VI Rugby are that the ball contains small ball bearings, or bells, to make it audible, you do two-hand touch tackles (essentially like touch rugby) and scrums are uncontested.
One regular on the VI Rugby pitch shared how this fine-tuning of an old English sport has helped him to fulfil a life-long ambition; "I've always been a huge rugby fan and VI Rugby allows me to fulfil those dreams of playing," he said, "it's fun, fast but most importantly it's safe and an environment that you want to turn up to."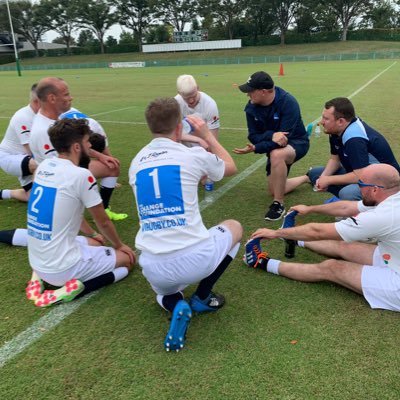 More than a sport.
Alex Bassan, one of the developers of the game has been amazed by the growing popularity of the sport and the trickle-down benefits for participants at Richmond's VI Rugby club, "a special bond has developed between those attending; players let their barriers down and attitudes start to change. Those who had never had the chance to play started to believe in their ability, playing a game they had consistently been told they would not be able to access as it was too dangerous." 
And it's also proved to empower those who have had to give up the game as a result of losing their sight, "they felt they would never be able to run out onto a rugby field again;" continues Alex, "These experienced players have been able to share their knowledge of the game, helping less experienced players progress, building confidence and self-esteem."
VI Rugby on an international stage…
With the support of Ian McKinley (current Italian International), who lost an eye playing professional rugby for Irish club Leinster, coaches and players have been able to bring the game to the attention of the rugby world and to visually impaired people across the globe. This culminated in a three-match series between Japan and England last year, and they show no sign of slowing down just yet:
The first national VI Rugby competition will take place in England this year.

A 'Blind Lions' team is soon to be selected for a three-match series against the 'Blind Boks' in South Africa.

A Six Nations event is scheduled for early 2021. 

The first Visually Impaired Rugby World Cup is planned for 2023. 
VI Rugby for all.
It's not just on the international stage that momentum is picking up. Metro Blind Sport, another organisation that exists with support and funding from The Vision Foundation, is helping to bring VI Rugby to anyone who wants to play across the whole of London. Their ethos is all about creating fun, sporting opportunities for blind and partially sighted individuals, regardless of age or ability (find a VI Rugby session near you). 
Richard* a keen VI Rugby participant enthuses "[it's] given me a sense of belonging. I have made new friends with similar interests as me through a sport I was told I would never play." 
What happens when barriers are removed.
Visually Impaired Rugby has now received recognition on the world stage and has a bright future at grass roots levels too. It's incredible what has been achieved since its inception and everyone at The Vision Foundation couldn't be prouder to have been involved from the ground up. Truly, every single person who has generously donated to The Vision Foundation has helped to develop this brand new, empowering and inclusive sport. 
Thank you for playing your part.
*This name has been changed in the interests of privacy.